24 Oct 2014 2 Comments
I had boarded Flight 112 From Bengaluru to Delhi. It had been a busy day, so I slept off during take off, despite the playful voices of children playing, the engine humming and the youngsters' gizmos beeping with games. My sleepy eyes fluttered open along with the popping sensation in the ears (the bane of flight pressure change), when the flight attendant asked if I would like to eat something. Having just woken up, the cold body desired something hot and inside a flight, the only options are tea and coffee. I always liked dining 30000 ft above the sea level, it gave me a sense of pride in human invention and innovation. With a smile, I decided to go for coffee. The taste buds were ready, the aroma tantalized the nostrils and the ears could hear the bubbles being produced, as I whiffed the air in anticipation of a steaming cup of Joe! An order was requested but to my dismay, the flight attendant informed me that the flight captain had ordered against serving tea and coffee. Sleeping through announcements is sometimes good, as it allows your mind to travel through innovative fantasies away from reality. My mind flow-charted so many reasons as to why the pilot would have refused coffee loving passengers from indulgence.
Maybe, a rat found an innovative way to commit suicide inside the coffee pot, or could the pilot be a coffee aroma lover and decorating his small cabin with coffee beans and several other such ideas. The real reason came to pass when the pilot announced that the array of clouds which would have given us heavy turbulences were being avoided by taking a detour of 135 KMs.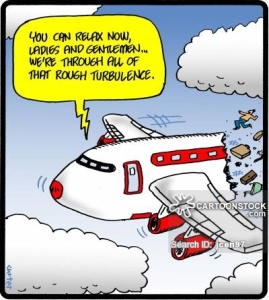 He further added, "Enjoy your journey, you are in safe hands." A big hollow tube filled with people, all having their own minds and their unique train of thoughts, having some or no activity, all waiting to reach the destination! What makes them wait so patiently and calmly is the knowledge when that their pilot is well equipped to transport them safely. Someone, everywhere has been sent to protect us from insignificant (rather significant) coffee burns or tornado turbulences and move us towards faith. The mind fights back when its desires are not fulfilled, not knowing that mostly, they are for the good. Also, not understanding that the pilot knows what is good or not at a particular time.
Flight 112 turned out to be an earth of an experience but thanks to the pilot who helped me take this heavenly leap of faith to enjoy the ride, the journey also being part of the destination, they merged, a soft smile emerged, and we landed! As Guruji says, "If you have faith then you are full, complete."
Everything felt wonder-full.